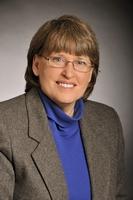 College of Agriculture Grants Officer
N-3A Agricultural Science Building North
Lexington, KY  40546-0091
Phone:(859) 257-7291
FAX:  (859) 257-3393
bnewsom@email.uky.edu 

As the Grants Officer for the College of Agriculture, Ms. Newsom works with faculty and staff to facilitate grant proposal submission by creating and/or reviewing budgets, reviewing required form pages for administrative information, and finding answers to any other question that might arise related to grant submissions. Ms. Newsom also works with departmental staff to assure charges are posted to the appropriate category on awarded grants. She is available to help train faculty and staff who are new to the UK grants and contracts arena. Prior to joining the College in September 2002, she spent 15 years as a business manager in the College of Medicine and 7 years in the College of Business & Economics Graduate Center. Ms. Newsom passed the national test to become a certified research administrator in March 2004. The many years of UK experience and the national certification give her added insight when helping College of Ag faculty and staff navigate the processes associated with pre-award and post-award grant administration.
Departments
Betty Newsom serves as the primary contact for the following departments:
81020 - Ag Associate Dean for Research
81040 - Ag Economics
81045 - Small Business Development Center 
81070 - Animal & Food Science
81080 - Entomology
81090 - Forestry
81110 - Horticulture
81130 - Community & Leadership Development
81170 - Program & Staff Development
81250 - UK Veterinary Diagnostic Lab
81330 - Family & Consumer Science
81355 - eXtension
81380 - Ag Programs
81500 - Nutrition and Food Sciences
81600 - Family Studies
81700 - Merchandising, Apparel & Textiles
81800 - School of HES Administration
81045 – Small Business Development Center